WASHINGTON, DC – The 2021 Haitian Diaspora Interest Group is proud to announce that his Excellency Bishop  PIERRE-ANDRE DUMAS will attend the Haiti Unity Summit and will provide opening prayers and benedictions. The  bishop will meet with Louisiana Governor John Bel Edwards and General Russel L. Honoré. The Summit will take  place on January 13-19, 2022, in Baton Rouge, Louisiana. Bishop Dumas is the founding bishop of the diocese of Anse a-Veau and Miragoane in Haiti. He is a well-respected religious leader, and we are proud to have him lead us in prayers  as we open this historic summit of unity among Haitians.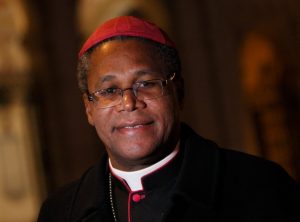 The Haiti Unity Summit is a Haitian-led event which provides a platform for all the different "Accords" to negotiate a  final solution to the political crisis in Haiti. This Summit is an historic opportunity for all the parties to come together  in one place to discuss the future of Haiti and how they wish to move forward after February 7, 2022, the date when the  Constitutional term of office of president Jovenel Moise will expire. The Summit receives broad support among Haitians  from the Diaspora, Haiti, as well as the international community.  
Brian Nichols, the Assistant Secretary for Western Hemisphere, told the U.S. Senate Foreign Relations Committee that  this "…this must be a Haitian-led solution". The same sentiment was echoed by Kenneth Merten, the United States  charge affairs to Haiti who told a local radio station in Port-Au-Prince that "…we need An Accord of all the Accords."  U.S. ambassador to the United Nations, Linda Thomas-Greenfield, and several members of Congress, including  Congressman, Gregory Meeks, the Chairman of the Foreign Relations Committee have all said that the path to a lasting  political solution is a broadly negotiated solution. This Summit provides a historic opportunity for all parties to meet  face to face and work out their differences. The highly decorated Lt. General Russell L. Honoré (ret) will facilitate the  summit.  
The "Haiti Unity Summit" thanks Bishop Dumas for his leadership, and his continued hard work on behalf of the  poor and less fortunate. His blessings and words of encouragement and hope shall guide the participants towards a  final solution to the political crisis in Haiti. We thank our partners and sponsors for their continued support and the  public at large for their interest, enthusiasm, advice, active participation, and support.  
1629 K Street, Suite 300, NW; Washington, DC 20006 Phone: 202-508-3397